The Chicago White Sox actually did okay vs Boston in 2022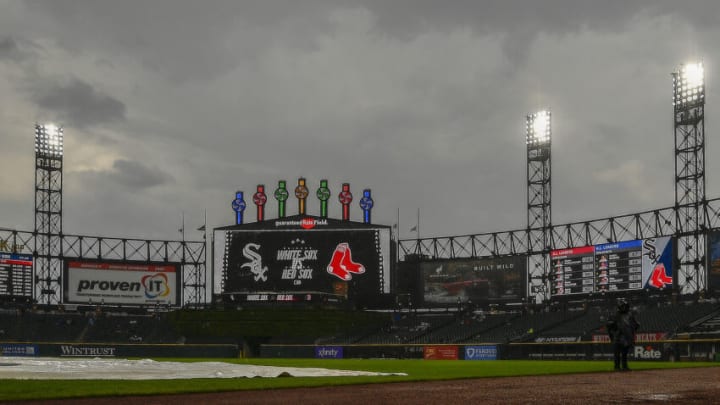 CHICAGO, ILLINOIS - MAY 25: A general view of Guaranteed Rate Field during a rain delay of the game between the Chicago White Sox and the Boston Red Sox at Guaranteed Rate Field on May 25, 2022 in Chicago, Illinois. (Photo by Quinn Harris/Getty Images) /
It is tough to watch the Major League Baseball playoffs knowing that the Chicago White Sox didn't participate in them. The Philadelphia Phillies and Houston Astros are set to begin the World Series on Friday night. It is going to be a great series.
There are also some other sports going on that are grabbing the attention of fans around town. On Monday, the Chicago Blackhawks are off but fans have been treated to three straight wins despite them not having an outstanding roster.
There are also the Chicago Bulls and Chicago Bears who each have a game on Monday night. Of course, the Bears are on the national stage with Monday Night Football which is always a big deal. They are going to take on the New England Patriots in Foxborough.
Meanwhile, the Bulls are going to be taking on the Boston Celtics at the United Center in Chicago. Yes, both teams are taking on Boston sports teams on the same night. The two great sports towns of Chicago and Boston are being pinned against each other.
You might remember when the Chicago Blackhawks defeated the Boston Bruins in the 2013 Stanley Cup Final which was their second title in four years. The White Sox also swept the Boston Red Sox en route to the 2005 World Series which is such a nice memory.
The 2022 Chicago White Sox and Boston Red Sox weren't that different.
In 2022, both teams drastically underperformed to what their standards were set to be. The Red Sox came in last place in the AL East while the White Sox came in second place. Despite the difference in place in their division, their records were only three games off.
Both of them were expected to be elite this year. Boston came off the 2021 ALCS loss looking to regain some of that magic this year but it didn't happen. The White Sox didn't live up to their 93-69 season a year prior either.
Against one another, the White Sox took the season series by a final of 4-2. It is one of the few teams that the White Sox finished the season with a winning record. Despite that, the Red Sox outscored the White Sox in the series 38-23 which is wild.
In 2023, both teams are hoping to be much more competitive against one another and everyone else. The city of Chicago is also hoping that they get the better of Boston on Monday night as two of their teams face off in this rare instance.