The White Sox options for the number two hole.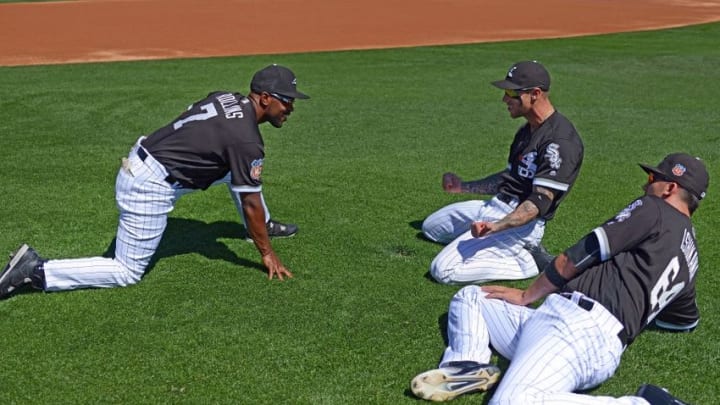 Mar 18, 2016; Phoenix, AZ, USA; Chicago White Sox shortstop Jimmy Rollins (7), third baseman Brett Lawrie (15) and first baseman Travis Ishikawa (64) stretch before the game against the Chicago Cubs at Camelback Ranch. Mandatory Credit: Jake Roth-USA TODAY Sports /
Now that White Sox manager Robin Ventura has moved second-baseman Brett Lawrie down in the order (at least it looks like it), who should be the team's number two hitter? Since Melky Cabrera seems destined for the five hole, it seems as though the Sox have two choices. That being shortstop Jimmy Rollins or center-fielder Austin Jackson.
Credit: Jake Roth-USA TODAY Sports /
There is a bit of a problem with the whole idea of either of them as number two hitters, that being that both may not be in the lineup every day. With Adam LaRoche retired, it is likely that Avisail Garcia will be getting many at bats as a designated hitter. Meanwhile, the Sox likely will go with a left-handed bat off of the bench versus certain pitchers in that role, meaning the team will be left with four outfielders. Assuming Garcia is hot, it wouldn't make any sense to keep him out of the lineup. In that case, it is very possible that Jackson sits.
On the other hand, Rollins may have some issues as an every day shortstop. If that is the case, Tyler Saladino will be the starter, and I don't think the team wants him in the two hole. We saw Saladino spend a great deal of time in that role last season after being called up, and the results were below average at best. Saladino is a solid defensive shortstop, and a serviceable bat, but has no business being at the top of a major league order. The question now is that if they do not, who does?
More from White Sox News
I would not be against using both of them from time to time at the top of the order. Rollins is a switch hitter who can do the little things well, and Jackson has the ability to steal bases if he gets on. Both would provide speed, therefore if they reach base either of them could disrupt a pitchers rhythm. The big problem with Jackson is strikeouts, and I would not put him in the two spot if he was in a slump. Rollins on the other hand, is a player that has a high baseball IQ, not to mention makes contact much better than Jackson.
Overall, it might be better to not have an everyday number two hitter until someone emerged as the best candidate. Lawrie has a horrible BB/K rate, plus due to his power he should be hitting down in the lineup. I wouldn't be against Jackson leading off and Eaton as the number two hitter if the team was struggling offensively, however this would not be a first option. A dark-horse candidate for this role is Dioner Navarro, just due to his ability to put the bat on the ball. I realize he won't play every day, however his contact ability would be the ideal bat behind Eaton. The big issue with Navarro is that he doesn't get on base enough, due to a lack of walks. So after analyzing this as of right now, the Sox really don't have a definite number two hitter. However, they do have some options, but the question is do they want to move Cabrera up (which would hurt the middle of the order), or try to survive with what they have right now. Time will tell, but overall I think it will work itself out. Get ready Sox fans, only a couple weeks until Opening Day!