White Sox Southside Showdown's Roundtable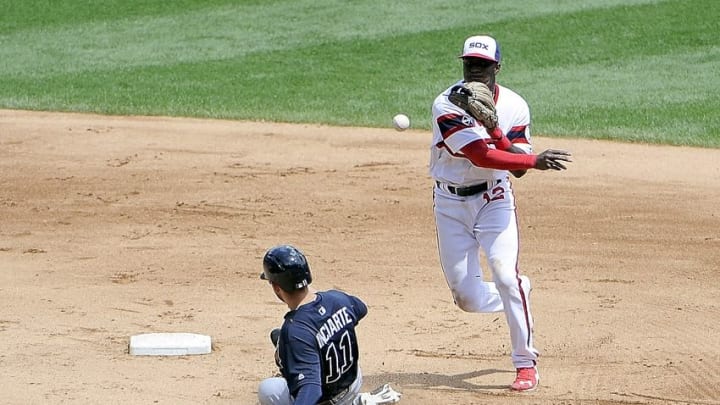 Jul 10, 2016; Chicago, IL, USA;Tim Anderson has been a huge spark for the White Sox since being called up in June.Mandatory Credit: David Banks-USA TODAY Sports /
The White Sox had an interesting first half. A blazing 23-10 start, 10-26 in their next 36 games and 12-7 since. They open the second half at struggling Anaheim and 45-44 Seattle. They come home for games against the Tigers and Cubs before two games at Wrigley and another road trip.
The White Sox schedule is brutal to start the second half they play 23 of their first 32 on the road, including the two at Wrigley. It's going to be tough to get through this part of the schedule. If they survive it, they should make a playoff run.
Here is a roundtable look at the first half and what's coming up in the second half for the White Sox.
Who is the White Sox first half MVP?
Alan Rubenstein:
Chris Sale. When a pitcher has nearly 33 percent of his team's wins and is 12 games over .500 on a team that is just two games over, this is a no brainer.
Brian Draus:
This was a difficult one, but Melky Cabrera makes sense. Without him, the team would be without any middle-of-the-order hitter that hits for a high average (he is hitting .297). He has also played solid defense for the entire half and has stayed on the field (80 games played).
Owen Schoenfeld
Chris Sale. When a single pitcher leads the league in wins (14) and also happens to be responsible for 31 percent of his team's victories, it's an easy MVP. Two poor outings have inflated some of Sale's ERA and FIP, but they have a chance to win every time he pitches. Without him, the White Sox are easily under .500.
Etheria Modacure
Chris Sale. This is an easy answer. Without Sale, the White Sox are looking at another season under .500. If Sale continues to dominate in the second half, he could be considered AL MVP.
What was the White Sox biggest moment of the first half?
Brian Draus:
The turnaround towards the end of the half was key. Even though they were awful in the Braves series to end the first half. they came into that series with five straight series wins. Had they not turned things around, the season could have quickly spiraled out of control.
Owen Schoenfeld: 
On May 9th, Todd Frazier ripped a grand slam in the 12th inning against the Texas Rangers to help the White Sox move to 23-10. While Chicago has gone on a recent 12-7 run to get back on track, they have yet to reach a cloud nine as high as that towering Frazier slam in Texas.
Etheria Modacure
All three of the team's triple plays turned. I don't know which triple play was most impressive, but the infield defense has come a long way since last season. Thankfully White Sox fans don't have to endure blunders from the likes of Conor Gillaspie, Micah Johnson or Alexei Ramirez anymore.
Alan Rubenstein
Recalling Tim Anderson. He has provided a huge spark offensively on one of the worst offenses in the American League. His presence has reverberated throughout the lineup.
How many games will Chris Sale win and why?
Owen Schoenfeld: 
Twenty-Four. Chris Sale has 14 wins at the break. There are reasons to be skeptical of Sale's new pitch-to-contact strategy. He will find a blend between the full throttle and timid paradigms he's shown flashes of this year. If he revs up the fastball or goes to breaking stuff out of the zone a bit more, going 10-4 second half seems within reach.
Brian Draus:
Since he is sitting on 14 wins as of today, I am going to say 22. It is going to be hard for him to keep pitching at the pace he is all season, especially since he has a track record of slowing down in the second half of his career.
Etheria Modacure
Twenty-Four. He's not going to win 14 games in the second half, but he can most certainly win 10. Sale's new approach on the mound is great for his endurance and I think the White Sox being in contention in the second half will give Sale more motivation to reach the postseason for the first time in his career.
Alan Rubenstein
Twenty-two. Sale had decisions in 17 of 18 starts in the first half of the season. That's going to be hard to duplicate. He is likely to have 14-15 more. In the dog days of the rest of July and August, Sale might not be able to go as deep into games as he did. The rest of the rotation is going to need to pick it up in the second half or the White Sox postseason hopes will fail for an eighth straight year.
More from White Sox News
What do you expect from James Shields in the second half?
Brian Draus: 
Shields has begun to turn the corner since he came to the Sox over the last few starts. While I don't think he is going to be an ace, I think he will likely be a solid #3/4 starter down the stretch for the South Siders. Assuming they somehow stay in it, he could play a critical role.
Owen Schoenfeld: James Shields has appeared to right the ship. His velocity has decreased and he is not as effective as he was in Kansas City or Tampa Bay. Shields is a mediocre number three starter.  An ERA hovering around 4.00 is a reasonable expectation. The hope is that "Big Game" James will be instrumental in getting the White Sox to the playoffs.
Etheria Modacure
Shields will become a major contributor to the starting rotation. Although he got off to a horrendous start, Shields has had solid stars recently and he should be able to supplant Carlos Rodon as the team's number three starter for the remainder of the season.
Alan Rubenstein
He is not likely to be as strong in the second half as he was in his last few starts. When Shields was acquired General Manager Rick Hahn said "But with the way our rotation sets up the next few years, we just needed him to be a nice, stabilizing presence in the middle of it. The White Sox acquired Shields to be an innings eater and keep the White Sox in games. If he can continue to do that, the White Sox should have a great chance for postseason baseball.
Live Feed
3 reasons White Sox will be a dangerous out if they make the playoffs /
FanSided
Can Tim Anderson make a realistic run at American League Rookie of the year?
Brian Draus: If he continues to perform at the level he is now, then I would say yes. But since it is likely that pitchers adjust to him the second time he goes through the league, it is unlikely. Mike Trout types are rare, and while Anderson will have a good season he is probably not going to be 2016 AL Rookie of the year.
Owen Schoenfeld:  Anderson has been amazing since his call up. .His 304/.310/.488 slashline is through 28 games. He's has nine doubles, a triple, and four home runs.  Anderson's low walk-rate will force him to expand the zone as he is pitched differently. Nomar Mazara of the Rangers and Michael Fulmer of the Tigers will make their own cases. I'm dubious but stranger things have happened.
Etheria Modacure
Yes. Anderson has not only been impressive on offense, his defense has been better than advertised. If he continues to have multi-hit games and make spectacular plays on defense, there's no reason why he won't be named AL Rookie of the Year.
Alan Rubenstein
Yes. Despite his late start, Anderson still has an excellent chance at winning the ROY. Anderson is currently third among rookies in batting average, fifth in stolen bases and fourth in slugging. Add that to playing one of the most important positions in baseball and he will be a strong candidate. His biggest competition will be Mariners first baseman Dae Ho-Lee, Twins first baseman Byung Ho Park and Rangers outfielder Nomar Mazara.
Next: White Sox in the Market for a Centerfielder
It should be an interesting second half for the White Sox. They are going to need to survive the brutal first month of the second half to remain in the pennant race. There are far more questions than the five answered here. The roster is likely to still be in flux. How busy the White Sox are at the August 1 trading deadline and August 31 waiver deadline should impact the remainder of the season.