White Sox: Ken Williams Feels Konerko Deserves Hall of Fame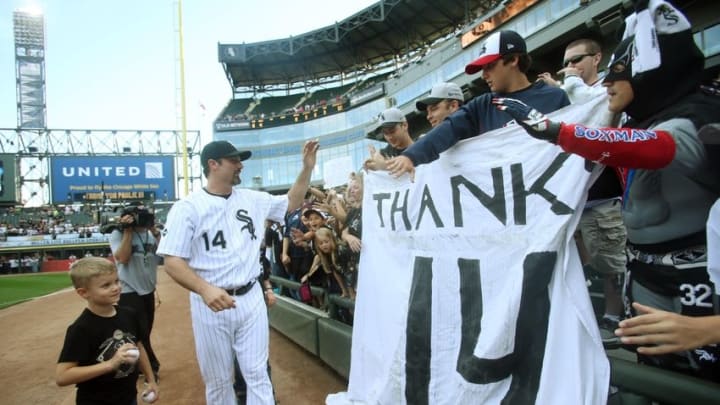 Sep 28, 2014; Chicago, IL, USA; Chicago White Sox first baseman Paul Konerko (14) waves to fans in the stands after the game against the Kansas City Royals at U.S Cellular Field. Mandatory Credit: Jerry Lai-USA TODAY Sports /
White Sox VP Ken Williams told MLB.com's Scott Merkin Paul Konerko should be in the hall of fame. The former captain will be eligible beginning in 2020.
Paul Konerko will go down as one of the best players in Chicago White Sox history. The first baseman played most of his career with the organization and had fine career. After his retirement, the questions immediately began whether he had a fall of fame worthy career. While the voters won't debate this until 2020, the former captain has one person on his side, executive vice president Ken Williams.
More from White Sox News
In an interview with MLB.com's Scott Merkin, Williams lays out his argument for why Konerko should be enshrined in Cooperstown. Just to be clear, the White Sox executive is not a voting member. He was simply giving his opinion when being asked about Tim Raines being elected to the Hall of Fame in his final year of eligibility.
""The NBA and NFL, great players get in. They don't have to be all-time greats. They are just great players that fans enjoyed for years and years. And they made people feel good. Why do we continue to limit access to a Hall that is supposed to be for the fans' enjoyment? Give people in the various cities the opportunity to celebrate their heroes. What's wrong with that?"Ken Williams – White Sox Executive Vice President"
Williams points to the fact that in other sports, you don't have to be an all-time great to get the nod. To a certain extent that is true. There are players in the Hall of Fame who were great players, but they weren't the best guys in their era. Sometimes it is more about what they meant to their organization.
Konerko definitely meant a lot to this organization. After all, he was their captain and won a World Series with them. He also had some of the best memories in White Sox history. No one will forget the great plays he made and his phenomenal play in the 2005 World Series. He definitely means a lot to this organization and was definitely one of good guys in baseball. And that definitely helps him out. Guys like Barry Bonds, Rafael Palmeiro and Pete Rose may never get in because of their reputations.
From a statistics standpoint, Konerko didn't have a bad career. The right hander hit 439 home runs and had 1,412 RBIs in his career. That goes along with a .279 batting average and .486 slugging percentage. Not bad for an 18-year career. But is that enough to carry him into the hall of fame?
At face value, I would say no. There's no doubt he was a great player but it may be tough for him to get the nod. I'm not saying he isn't Hall of Fame worthy, but Konerko will have a tough road. Most likely he won't be a first ballot and it may difficult for him to get enough votes. It seems like the voters are looking for guys who hold records and have phenomenal stats. Like Williams said, great players don't usually get into Cooperstown.
Next: How Tim Anderson Can Improve This Upcoming Season
It may not be fair, but that's just how baseball is. That doesn't mean things can't change and Konerko gets the nod. He isn't on the ballot until 2020 and will have 10 chances to get voted in. The game has been changing a lot and maybe the voting will too. He definitely was a great player and even better teammate, so why not give him the ultimate honor. He already has the support of Williams and we'll have to wait three more years to see if has the voters support, as well.