White Sox: Can Adam Engel Develop Into Above Average Outfielder?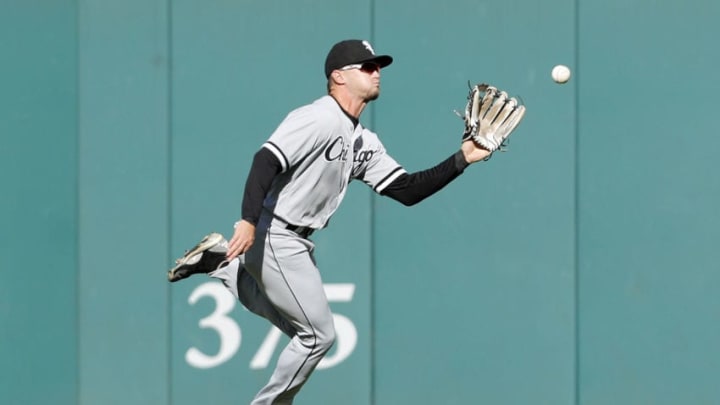 CLEVELAND, OH - OCTOBER 01: Adam Engel /
White Sox rookie outfielder made some spectacular catches in center field this past season, but he struggled offensively. Does he have a low ceiling in MLB?
With all of the talk about the great young outfielders both on the White Sox and in their farm system, there is one name that isn't getting a whole lot of publicity. That would be Adam Engel. Given he is far from a finished product, is it fair to say he could develop into an above average major league outfielder someday? Let's talk about it!
First and foremost, it is highly doubtful that he becomes a Mike Trout or Adam Jones type of center fielder. However, if Engel can polish up his game a bit, it might be realistic to put him in Austin Jackson's category. The reason behind that is due to his elite speed and range. Engel's 2017 center fielder range factor was unbelievable, considering that it was 2.91 per nine innings (3rd in MLB).
More from White Sox News
Another area to take a look at is Engel's BB/K ratio. It was putrid even in the minors (198 walks/461 strikeouts), which resulted in a 2.33 to 1 K to BB ratio. His batting average was also poor, considering he hit .260 in 1,871 at-bats. On the flip side, Engel stole 184 bases in 232 attempts (79.3 percent success rate) but keep in mind it will take a lot to convert that level of production to the big leagues.
Here is where things get most comparable with Jackson: power. Engel is a player who has excellent gap power, but falls short when it comes to hitting the ball over the fence. Just by looking at his pop in the minors, Engel never hit more than eight home runs (2017 at Charlotte) while reaching double digits in triples (2014, '16) twice.
Let's move on to why Jackson is a solid comparison. First, would be the phenomenal range. During his time with the Detroit Tigers, Jackson never posted a range factor below 2.40, which is very good at the least. On top of that if you look at 2011 Jackson's DWAR it was 3.4, an incredible statistic especially for an outfielder who doesn't have the world's greatest arm.
Jackson also has limited home run power (sixteen is his MLB career high), however he posted ten or more triples three times (2010-'12). Reaching via the double was a dexterity of Jackson's as well, especially when you consider that he socked 30 or more three times (2010, '13, '14).
Before we wrap up, keep something in mind. Engel has a long way to go before he reaches the level of  Jackson, at least when it comes to his daily production at the big league level. What this article is saying is that he has the potential to become a Jackson-like player, not that he will.
Next: Potential MLB Expansion Could Have White Sox, Cubs in Same Division
All in all, Engel is one of the better young outfielders on the Sox no one is really talking about. He has a long way to go before he becomes the next Jackson, but can he do it? Sure, but your guess is a good as mine if he will especially with the young talent on the way. You have to hope that if he does put it together, it is with the Sox, not somewhere else.