White Sox Likely to Have Another Losing Season in 2018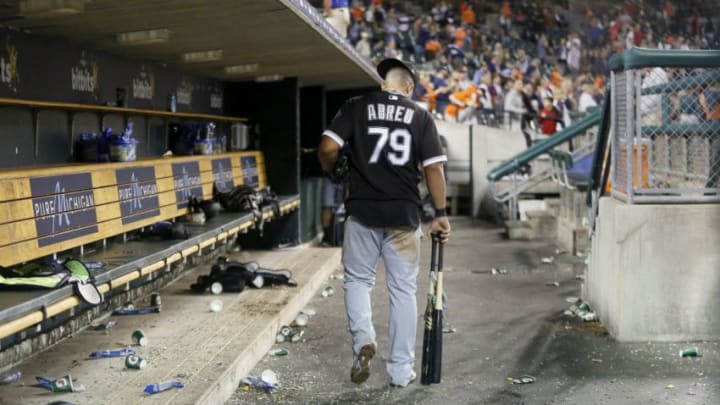 DETROIT, MI - SEPTEMBER 15: Jose Abreu /
Don't be surprised or alarmed if the White Sox lose another 90 games or more again in 2018. They will be losing to learn and not the other way around.
When the White Sox take the field in 2018, don't expect too much. It's not that the team won't be serious about winning, it's that winning isn't the point. Learning is. And it's not that these young players don't know how to play the game, it's that they don't yet know how to win as a team. That takes time. That's what 2018 will be: time to learn to play together, trust each other, and win with each other.
Looking across the team, one sees a strong foundational in its starting infield, a talented yet inexperienced starting staff, a thin relief corps, and gaps in its outfield and overall depth. Let's address each component.
More from White Sox News
First and foremost, the most important thing for the entire franchise and its talent across all levels is development. A year from now there very same gaps may be present. The more ready the depth chart is in filling those gaps the greater the options for the club to address them. We will know for example how deep the Sox outfield talent is once we have a year of results from Luis Robert, Eloy Jiminez, Ryan Cordell, and Micker Adolfo. Viewed through that lens and framework, we naturally look first at starting pitching.
There is no question that Lucas Giolito, Reynaldo Lopez, and Carson Fulmer have major league stuff. Whether they have the tools is not in dispute. Whether they are ready to win at the major league level is, and I feel each is ready for the opportunity to prove if they can. They need the runway to build and show endurance. They also need to play through struggles and show results over time and gain the full feel of a Major League season harness all its learnings.
Each of the three pitchers has realized success and failure at the major league level. They will very likely experience both in 2018. Providing the opportunity to balance each during a full season is the point. The question with the young starters is how will they do and adapt?
When we turn our attention to relief pitching, the story is much different. There is raw talent in the organization but not depth. I suspect the team may sign a veteran reliever or two to add some depth, and the relief corps emerging from Spring Training may yield some surprises. While the ranks maintained during the season may be quite fluid. The question of Sox relief pitching for 2018 is who will it be?
The infield is the most exciting part of the 2018 team. Consider a full season of Jose Abreu at first base, Yoan Moncada at second base, Tim Anderson at shortstop and Matt Davidson at third base. That quarter could potentially deliver 100-plus home runs and 300-plus RBIs. Yolmer Sanchez as a utility infielder is more than adequate, and we may see intangibles coming from Tyler Saladino or even Jake Peter that adds to the excitement.
The opportunity for the infield is to gel together – Anderson and Moncada developing their rhythm and style together as a double-play combination, the middle infielders working with their catchers, and so on. I view this as a how consideration.
Lastly, the Outfield will be a combination of how and who? Will Nicky Delmonico continue to deliver on the success he demonstrated after his 2017 call-up? Will Avisail Garcia look like 2017 version of himself or the 2014-16 one? And who will play center field? Charlie Tilson, Leury Garcia, Adam Engel or someone completely different?
The Sox as it stands now can field a team that largely promotes the young framework for the future, which means free agent signings or trades for current contributors really aren't necessary. Compare this team with the talent they had during its 2017 season of 95 losses and it's easy to imagine a scenario of continued losing. This new talent is untested. 2018 will begin that testing, and much of it will come in the form of losses.
Next: White Sox Checked in on Christian Yelich
That doesn't mean they'll not be fun to watch, or that it won't be interesting to realize the answers to their questions as they show themselves. And especially don't underestimate how the learnings this team has in store for itself will fuel their chances for future success. The more they lose, the better it may be in the end.