White Sox: Next Big Thing Luis Robert, What to Expect and When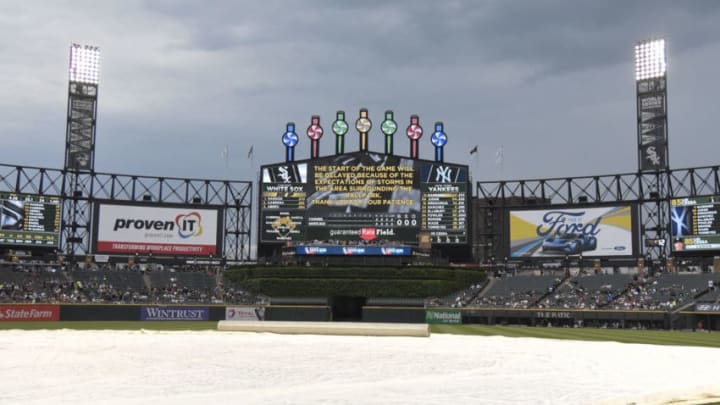 CHICAGO, IL - JUNE 29: A tarp cover the field as the start of the game between the Chicago White Sox and the New York Yankees is delayed because of the weather on June 29, 2017 at Guaranteed Rate Field in Chicago, Illinois. (Photo by David Banks/Getty Images) /
White Sox surprised many by signing International Free Agent in 2017. What should fans expect of talented young outfield prospect?
The 2017 White Sox season was not exactly filled with highlights. Aside from special individual milestones and some great team wins, many highlights came off the field and in the front office. One of the biggest highlights of the season was the signing of Cuban phenom outfielder Luis Robert.
Robert was said to be the best Cuban prospect since his future White Sox teammate Yoan Moncada. Robert has all the physical capabilities to be an overwhelming, five-tool player – hitting for power, hitting for contact, base-running, throwing, and fielding. Again, very similar to Moncada.
More from White Sox News
MLB.com's Scott Merkin reported that Sox big-league manager Rick Renteria was over-the-moon for the 20-year old prospect, saying Robert was "a pretty impressive specimen." Quite frankly, many if not every manager would be excited to have a player as young and promising as Robert is in their minor league system. He's listed at 6'3", 205 lbs. and has been playing professionally in Cuba since he was 15 years old, according to Baseball Reference.
The Sox signed Robert – the top international prospect – to the largest international amateur contract since (you guessed it) his Cuban national team teammate Moncada. The contract also included a signing bonus of more than $25 million. Robert is currently listed as the White Sox No. 3 prospect, behind Eloy Jimenez and Michael Kopech, and is currently MLB Pipeline's No. 23 prospect. But what should Sox fans expect and when can they expect to see the promising Robert donning the black and white pinstripes?
Robert is projected to be not only a very successful hitter, but a great defensive outfielder and his arrival couldn't come any sooner. The White Sox have struggled mightily to find a long-term answer in center field. They had five different players start in center field and another seven players start games in left field, which Robert can easily shift over to. If his strength and capabilities can be harnessed into MLB talent, he can be an elite outfielder for a team that hasn't had one in a while. The Sox are hoping to have Robert be a versatile bat with power and a great defensive player with speed and size in center field.
As to when the Sox can expect to see him on the Southside, it probably won't be in 2018. Robert played his 2017 baseball with the White Sox in the Dominican Summer League. Robert actually homered in his first game in the Sox organization. He'll be attending White Sox Spring Training in two months and is projected to play an entire season in Single-A ball, with the Kannapolis Intimidators and/or the Winston-Salem Dash.
The Sox are not planning to contend until 2020 or 2021 so Robert will be 22 by the time 2020 rolls around, which is extremely young for a baseball player. Hahn was very patient with the other prospects and fans should expect he will be with Robert as well. Barring an insane spike in development, Robert will most likely not see the big leagues until 2020. And although it may seem like a long time, Robert should actually be right on schedule according to Hahn's plans. The White Sox should continue to emphasize the development of young prospects, especially with players like Robert, who are more physically-ready than technically-ready.
Next: Pitting Magnum Start Value Against Itself
Just a reminder of what he's capable of, Robert hit a home run at the age of 16 in a professional Cuban league game. At 18, he hit 12 home runs and slashed .410/.546 /.687 with 73 hits and 40 RBIs in only 53 games. He also hit .310 and had an OPS of 1.027 in the Dominican Summer League last season. So if it goes according to plan, Robert will be a very special player when the rest of the team is ready.