Chicago White Sox remain hopeful as new season approaches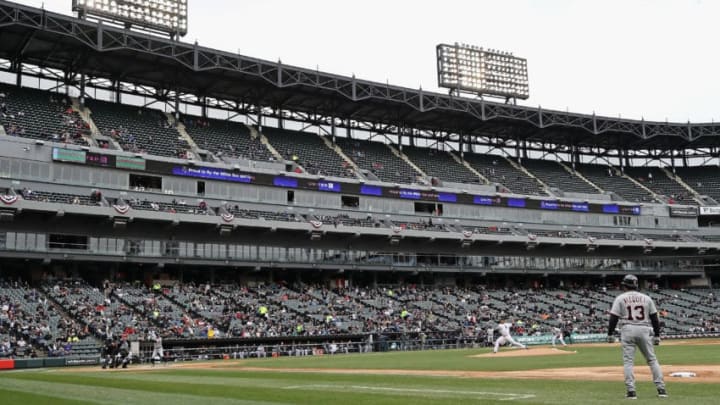 CHICAGO, IL - APRIL 04: Jose Quintana /
It's been 13 years since the White Sox won the World Series, but the team has hopes of winning another in the near future.
The White Sox (67-95) finished the 2017 season fourth in the AL Central, one spot ahead of the Detroit Tigers (64-98).
The team has made only one playoff appearance since 2005 and that was ten years ago in 2008. It began during the American League Central tie-breaker game that took place at U.S. Cellular Field as the White Sox faced the Minnesota Twins. The Sox won the game 1-0 thanks to designated hitter, Jim Thome, who hit a home run during the seventh inning. This was the lowest-scoring game in MLB tie-breaker history.
The last playoff appearance
The Sox advanced to the 2008 AL Division Series, but this appearance didn't piece out well for the Sox who played the Tampa Bay Rays.
Javier Vazquez started game one where Tampa Bay rookie, Evan Longoria, hit two home runs, earning Tampa a 6-4 win. Mark Buehrle started game two, but the White Sox were incapable of holding an early lead and lost 2-6. Games three and four took place in Chicago and home-field advantage helped the Sox in game three, but not game four. Tampa won 6-2 and took the series three games to one.
Aiming for the top
The taste of the post-season has been long gone for the White Sox, but the team and front office remain hopeful as the 2018 season approaches. White Sox manager Rick Renteria told the Washington Post:
More from White Sox News
""We're going to shoot high and we'll see where it falls.""
Let's hope it falls in the right place because the White Sox have the right talent this year. The new season will begin with new players, such as second baseman Yoan Moncada and pitchers Lucas Giolito and Reynaldo Lopez.
The White Sox's outfield will see new faces as well. Luis Robert and Eloy Jimenez will guard Roger Bossard's green grass.
The players practice good sportsmanship and show nothing but support to their fellow teammates.
In an article in USA Today, James Shields said:
""I don't really believe in 'it's too early to win.' These guys are very talented young men. If they put it together, something special is going to happen.""
Next: Predicting the Opening Day lineup
We will have to wait and see if something special is going to happen, whether it is now, or a few years from now. Only time will tell.