White Sox: Jose Abreu confirms the team is out of sync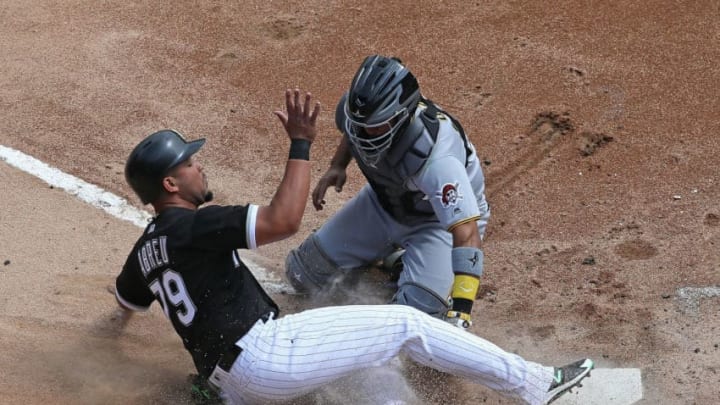 CHICAGO, IL - MAY 09: Jose Abreu #79 of the Chicago White Sox is tagged out at the plate by Elias Diaz #32 of the Pittsburgh Pirates to end the third inning at Guaranteed Rate Field on May 9, 2018 in Chicago, Illinois. (Photo by Jonathan Daniel/Getty Images) /
The White Sox are on pace to have a historic season. The current win-loss percentage is a minuscule .250.
Unless something changes, the White Sox are on track to win only 41 games. This means they could lose 121 games. One-hundred twenty-one games.
In recent history, a 41-121 record is worse than the Detroit Tigers horrible 2003 season that ended with a 43-119 record.
In baseball, records are always meant to be broken. But no team wants to be the one that breaks this one.
So, why is the White Sox record so bad right now?
In an article by Daryl Van Schouwen with the Chicago Sun-Times, Jose Abreu revealed the problem. He said through a translator:
""We have a talented group of young guys and a few veterans who still have fuel in the tank who can lead this team. Things haven't been in synch for us.""
Abreu discussed how the absence of Yoan Moncada and Avisail Garcia are affecting the team. Last season, Garcia was the team's lone All-Star. And, prior to his going on the DL for hamstring tightness, Moncada was batting .263/.359/.509 with six home runs and 15 RBIs. He entered the DL on May 5, so he should be joining the team soon. Garcia is on the DL for hamstring issues, too. The team expects him to be back sometime in May according to information on Rotoworld.
So, what is out of sync? Several things become clear when looking at the Sox stats compared to the rest of the MLB.
More from White Sox News
When it comes to offensive stats, the Sox are all over. With batting average, home runs, and OPS, the Sox are in the middle. But, when it comes to hits, RBIs, and runs, the Sox are one of the worst in the league.
When it comes to pitching stats, the Sox are terrible. Only the Royals and Orioles have given up more earned runs. The Sox are 30th in strikeouts and 30th in ERA with combined team 5.41. And, the team's WHIP is also 30th in the MLB at 1.58. No team has walked as many batters as the White Sox have, too.
It is difficult to win games when the pitching staff is underperforming. It is also difficult to win games when the batters cannot bring in runs. Yes, teams in rebuilds have these types of issues, but all of the other teams in rebuilds are winning more games.
Next: Yolmer Sanchez a bright spot in a sad season
It appears that Abreu is correct in his assessment. The Sox are out of sync. The offense can get on base, but cannot convert hits into runs. And, the pitching is floundering at the bottom of the league. Moncada and Garcia could make a small difference when they return, but the problem runs much deeper than their batting averages.