White Sox: The new culture that's starting to build on the south side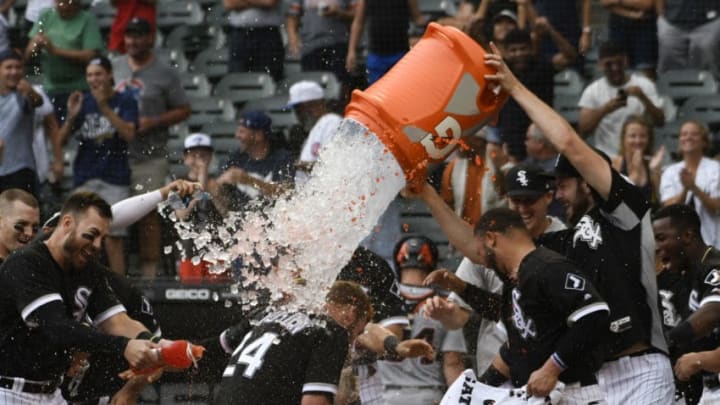 CHICAGO, IL - SEPTEMBER 03: Matt Davidson #24 of the Chicago White Soxis greeted by his teammates after hitting a two-run walk-off home run against the Detroit Tigers during the ninth inning on September 3, 2018 at Guaranteed Rate Field in Chicago, Illinois. The White Sox won 4-2. (Photo by David Banks/Getty Images) /
White Sox have been a better team in the second half of this season and are moving towards building a new winning culture full of young talented players.
With a rebuild process comes endless changes. We White Sox fans know that we have a new face on the field just about every week. It's inevitable with a rebuild.
One of the biggest changes that may go unnoticed to most is the change in the culture. It is more of a feeling than anything. You can feel it at Guaranteed Rate Field. You can see it in the attitude of the players. You can hear it in the emotion of Jason Benetti's voice. The culture is changing.
Who cares, some may ask. Let me tell you, everybody should. The performance of a team always breeds from the attitude, and the attitude comes straight from the culture.
More from White Sox News
Just look at the Oakland Athletics for example. If someone would have told me they would be neck and neck with the Houston Astros for first place in September, I would have told them they're crazy. Bob Melvin and the Athletics have proved me wrong and I'm not afraid to admit it. In fact, I love teams like this A's team. Teams that are built on culture and winning because of it. Sure, the fact that they've scored the fifth most runs in the major leagues helps. But you know what I mean.
Back to the White Sox, what exactly has changed about their culture? Think about it, what White Sox team of the past decade would throw on a shiny gold Sox chain every time they hit one out of the park? What Sox team of the past decade has had this many gritty young players that are basically fresh out of college and high school baseball? How many Sox teams in the past decade can say they had the lowest overall team age average? None actually. As of May 9, the White Sox had the lowest age average in the league at 26.2 years old.
CHICAGO, IL – SEPTEMBER 03: Daniel Palka #18 of the Chicago White Sox is greeted by his teammates after hitting a home run against the Detroit Tigers during the ninth inning on September 3, 2018 at Guaranteed Rate Field in Chicago, Illinois. The White Sox won 4-2. (Photo by David Banks/Getty Images) /
There's something about a team whose majority of players are under 30 that is fun to watch. It's like watching a gritty high school team play their hearts out everyday because their spot can be taken at any point. That's the type of baseball the Chicago White Sox are giving us right now.
Though we've seen some talented teams on the south side in recent memory, they didn't match the culture of this one. We've never had players like Yolmer Sanchez, who lives for being able to soak himself with the gatorade cooler in times of celebration like in the video above. It's been a while since we've had a rookie like Daniel Palka, a young guy who beat the odds and has now solidified himself as a player whose at-bats shouldn't be missed.
Another huge factor of this brand new culture is how the social media age is incorporated into the club. Given that the majority of the team was born in the 1990's, they primarily grew up in the midst of the social media age. We've never been able to constantly get glimpses into these guys lives like we do now. All it takes is a couple clicks and we feel like we can see everything that anyone has posted since high school. For example, Nicky Delmonico avidly uses and updates instagram. It doesn't stop with him, as he's one of many players who does so.
Not only is this White Sox team giving us a team that looks to win a lot of games down the road, but it gives us a glimpse into a bond that is already very strong and there's nothing better than being able to watch these young guys grow closer and closer as a family every day. It truly makes us as a fanbase feel like we're a part of this family. That is one thing that I feel like White Sox baseball has lacked in past years and it is one thing that I am extremely glad to see now.
Can this culture play a part in the team's success? I really think so. It has completely changed the attitude of the entire White Sox team and it's already evident in the play of the team just a couple years into the rebuild.
What's truly exciting is that not only will this core group of players get progressively better throughout the next couple years, but their bond will grow closer and closer every day. Any baseball player knows there are not many more important factors to winning than close relationships within the team. With the way this team has already grown together, the sky is the limit.