White Sox Grade Book 2018: Analyzing the two first basemen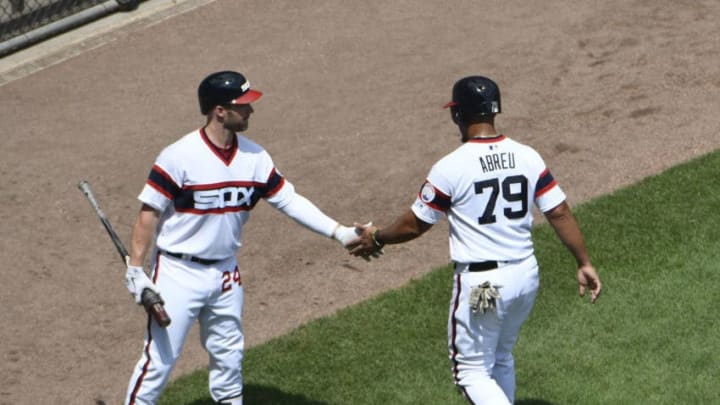 CHICAGO, IL - JULY 15: Jose Abreu #79 of the Chicago White Sox is greeted by Matt Davidson #24 of the Chicago White Sox after scoring against the Kansas City Royals during the third inning on July 15, 2018 at Guaranteed Rate Field in Chicago, Illinois. (Photo by David Banks/Getty Images) /
First basemen are generally the big hitters of any MLB staff and the White Sox are no exception.
Because of injuries that seemed to regularly sideline the White Sox All-Star first-baseman Jose Abreu, Matt Davidson and a few other players filled in for him.
But, were any of them as good as Abreu? Let's take a look.
Jose Abreu started and played in 114 games. And, his performance in those games was enough to make him the lone White Sox All-Star in 2018. His range on defense was the highest on the team: 8.56. He also had a fantastic .992 fielding percentage with eight errors. He was also involved in 81 double plays throughout the season.
Compare his season with a few other first basemen around the MLB. Freddie Freeman of the Braves only missed two starts and finished the season with a fielding percentage of .995 and a range of 8.32. Freeman was involved in 116 double plays. Chris Davis with the Orioles had 115 starts with the same fielding percentage as Freeman and range of 8.45. He was involved in 98 double plays.
More from White Sox News
Not one of the top 40 first basemen in the MLB had a perfect fielding percentage. But, there were some variations in range. Paul Goldschmidt dominated all others at first with a range factor of 9.25. Abreu finished fourth in the MLB and second in the AL after Matt Olson with the A's. Of qualifying first basemen, Cody Bellinger had the lowest range of 6.69. Goldschmidt also led the MLB with 131 double plays in 155 games.
The other White Sox player who saw significant time at first was Matt Davidson. He started 41 games and played in 45 games. His fielding percentage was slightly better than Abreu's at .994, but his range was lower at 7.73.
Defensively, Abreu is one of the best and has consistently been one of the best in his five seasons in Chicago. Davidson isn't a bad replacement, but he's not Abreu. The other players who filled in during 10 or fewer games included Nicky Delmonico, Jose Rondon, and Matt Skole.
If Abreu is traded, Davidson could take the spot, especially if Daniel Palka could return and be the daily DH.
Defensive Grades:
Abreu: A
Davidson: B+
Offensively, Davidson and Abreu are power hitters, but their power was down a bit in 2018. Abreu's batting slash in his injury-plagued season was .265/.325/.473. He hit 22 home run. While these numbers are well above league average, they are low for Abreu, who has a slash of .301/.359/.524 in his first four years. He averaged 31 home runs during that time, too.
Davidson had significantly lower slash numbers than Abreu, even with his DH numbers included. He finished the season with .228/.319/.419 with 20 home runs in 123 games. He actually improved a bit from his 2017 season, but those slash numbers are not great – especially compared to other first basemen. Davidson's home run numbers were so sporadic, with nine of them coming in March and April. He went from a .261 batting average in August, down to .207 in September. There was very little consistency from Davidson throughout 2018.
Offensive Grades:
Abreu: B
Davidson: C-
Abreu has been the face of the White Sox for the past few years, so hopefully, he can continue to be the veteran presence during more of the rebuild. Davidson is still young. Despite being 27 years old, he only has two full seasons in the MLB.