White Sox Christmas Wish List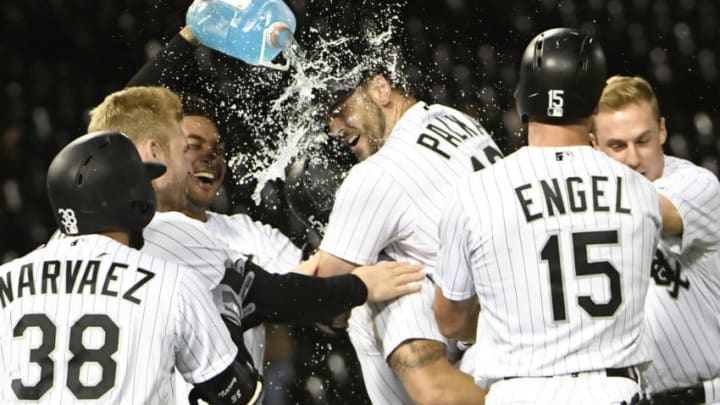 CHICAGO, IL - SEPTEMBER 25: Daniel Palka #18 of the Chicago White Sox is mobbed by his teammates after hitting a two-run game winning single against the Cleveland Indians during the ninth inning on September 25, 2018 at Guaranteed Rate Field in Chicago, Illinois. The White Sox won 5-4.(Photo by David Banks/Getty Images) /
What do White Sox fans want the most for Christmas? How about the front office building a team that can compete for the postseason in 2019?
Its been a very long time since White Sox fans have entered a season excited about the possibility of the team contending for the postseason. There have been some decent seasons since the Sox last playoff appearance in 2008 along with a lot of bad years on the South Side.
As the Sox have been interested in signing Bryce Harper or Manny Machado, acquiring either of those players could put the franchise ahead of schedule to competing for the postseason. Without signing either Harper of Machado, the Sox can still build a contender for 2019.
Sox fans are passionate and will certainly show up to pack Guaranteed Rate Field each night if the team can contend. The Sox haven't finished a season with a winning record since 2012 however, and they're coming off a 100-loss 2018. All Sox fans can agree that their Christmas wish list is short with just one wish.
More from White Sox News
That one wish is for the front office to build a contender. The Sox have a lot of payroll flexibility this offseason to sign many free agents to help the team for 2019. Signing free agents isn't the only road the Sox can take towards contention for next season.
There are players that can hopefully take the next step in their development in 2019. Tim Anderson improved his defense at shortstop this past season. He could become a major contributor next season but will need to put the ball in play more often.
Yoan Moncada will need to rebound from a poor season in 2018. Moncada, once a top prospect, didn't have a good year in his first full season in the Majors. He did show flashes of his potential but wasn't able to remain consistent. Moncada came close to breaking the single-season strikeout record. In order to perform well next season, Moncada will need to cut down his strikeouts in 2019.
Another player that will need to perform better for the Sox next season is Carlos Rodon. While Rodon had a decent stretch of starts this past summer, he wasn't able to end his 2018 campaign on a high note. Rodon's durability has been a concern over the past two seasons. If Rodon can pitch a full season for the Sox in 2019 at a high level, it would be beneficial for the team's pitching rotation.
The Sox front office can build a contender with a few more moves to fill in voids at third base, in the outfield, and in the starting rotation. This offseason is the perfect opportunity for the Sox to take the next step in their rebuild. If the aforementioned players can also improve along with some solid additions made by the front office, Sox fans may get their Christmas wish for a contending team in 2019.