Saturday Review: Yankees Recent Signing Could Help White Sox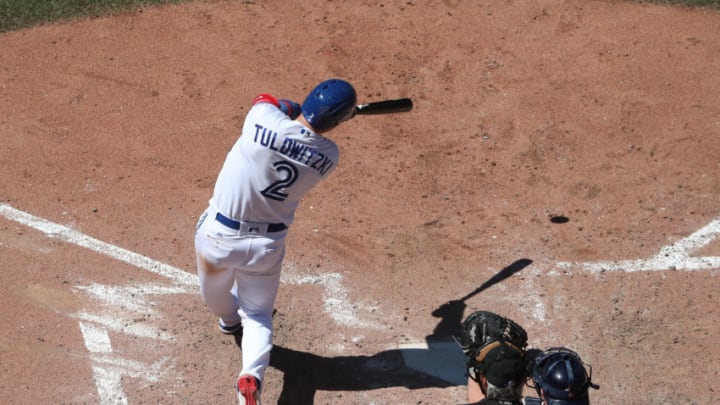 TORONTO, ON - JULY 8: Troy Tulowitzki #2 of the Toronto Blue Jays hits a three-run home run in the seventh inning during MLB game action against the Houston Astros at Rogers Centre on July 8, 2017 in Toronto, Canada. (Photo by Tom Szczerbowski/Getty Images) /
White Sox pursuit of Manny Machado could be helped by the recent signing of a veteran shortstop by the New York Yankees.
The White Sox reportedly submitted an offer to free agent Manny Machado this past week. With Machado's decision on which team he will sign with still unknown, the Sox are in a holding pattern while they await an answer from the 26-year-old.
With the recent signing of veteran shortstop Troy Tulowitzki by the New York Yankees, the Sox could be in a better position to sign Machado. There have been rumors of the Yankees being Machado's preferred destination, but with a void filled at shortstop with the signing of Tulowitzki and Miguel Andujar at third base, there might not be any room for him in New York.
How the Troy Tulowitzki Signing Affects the Yankees' Pursuit of Manny Machado-New York Times 
Billy Witz of the New York Times writes about the recent signing of Tulowitzki by the Yankees and how it could affect the team's pursuit of Machado. Tulowitzki is coming off of another injury-plagued season but fills a void for the Yankees at shortstop. Witz wrote the Yankees aren't likely to go near the type of 10-year, $300 million contract Machado could be seeking.
More from White Sox News
With Machado only meeting with two other teams in the Phillies and the Sox, Witz notes that he could still in the Yankees plans at third base. In order for that happen, New York would have to trade Andujar.
Witz writes that the Yankees could trade Andujar to a team for starting pitching. Whatever the case may be, the Sox likely stand to benefit with this recent signing by the Yankees. Although the Sox already have a shortstop in Tim Anderson, they're likely to be able to offer a more lucrative contract to Machado and they recently traded for his brother-in-law.
Using the Yonder Alonso trade to understand DRC+ and vise versa-The Athletic (subscription required)
Speaking of Machado's brother-in-law. The Sox acquired Yonder Alonso from the Cleveland Indians via trade earlier this offseason. James Fegan of The Athletic goes into detail on understanding the importance of Deserved Runs Created (DRC+) and how it favors Alonso. This is a new hitting metric compiled by Baseball Prospectus according to Fegan.
Fegan mentions that DRC+ favors Alonso favorably on offense. This is largely due to the favorability DRC+ gives to Alonso relative to his strikeout to walk, singles and home run contributions according to Fegan.