Who will the White Sox select in first round of upcoming MLB Draft?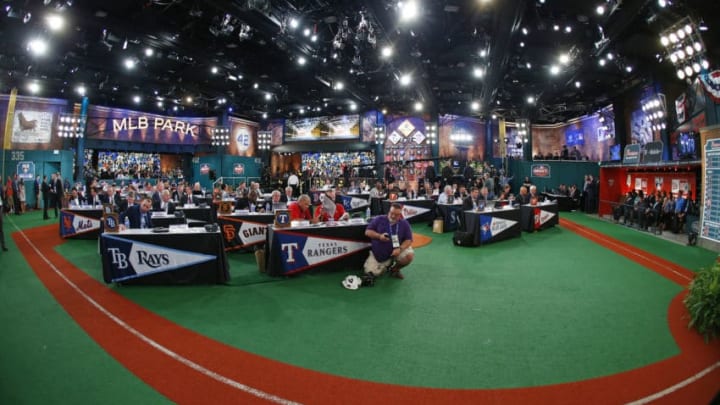 SECAUCUS, NJ - JUNE 5: Representatives from all 30 Major League Baseball teams fill Studio 42 during the MLB First-Year Player Draft at the MLB Network Studio on June 5, 2014 in Secacucus, New Jersey. (Photo by Rich Schultz/Getty Images) /
The White Sox select third in next weeks MLB draft. Who are the players they are targeting?
The White Sox hope to be adding another future piece of a championship core next week as they have the third overall pick in the 2019 MLB draft. Here's a look at the players they seem to be looking at.
We're going to assume that Adley Rutschman of Oregon State University is going to the Baltimore Orioles at number one. If the Orioles surprise everyone and don't select him then the Kansas City Royals would be right there to grab him. Obviously, if he is available when the White Sox select, they'd rush to the podium to hand his name to commissioner Manfred. But, that isn't really expected. So, let's be realistic.
1B Andrew Vaughn: His name has been associated with the White Sox for a long time. He was a golden spikes winner last year as he batted over .400 and had an OPS of over .800. He had a 44-18 walk to strikeout rate as well. He is a right-handed power bat that most figure has a good chance at being a middle of the order piece in a major league lineup and should move through the minors quickly.
More from White Sox News
SS CJ Abrams: The other name that has been linked to the Sox along with Vaughn is high school shortstop CJ Abrams. Abrams has been compared to Dee Gordon with more power by some. He has 75-grade speed and is projected to be a high-level base stealer.
A left-handed hitter, he gets out of the box quickly and has great bat control. He also is a possible fit at second base or center field as there has been discussion his herky-jerky arm throwing motion might not fit as well at short.
OF JJ Bleday: The latest and newest name in some mock drafts. He is a left-handed hitting outfielder out of Vanderbilt University. He leads all of division 1 with 25 home runs. He has started with Vanderbilt since his freshman year and was considered the top prospect in the Cape Cod summer league. He will be a corner outfielder as his speed is considered below average. Some scouts believe he is the best outfield prospect out of Vanderbilt, which is high praise considering the highly rated Jeren Kendall is on that list.
Other names the Sox are looking at are high school shortstop Bobby Witt, Jr., who seems all but assured to be going to Kansas City but would be the Sox pick should he fall to them.
The other name is TCU left-handed pitcher Nick Lodolo. He is considered the top pitching prospect in the draft. The 6'6″ lefty throws in the mid-'90s and has a good slider and changeup to mix in well with the fastball. He went back to school after declining the Pirates offer as the 41st overall draft pick last year.
Again taking Rutschman and Witt out of the picture it appears the Sox will choose between Vaughn, Abrams, and Bleday. I don't believe the Sox will draft for need specifically and will take what they consider is the best available player.
Between the three names above the player with the highest ceiling but also the lowest floor appears to be Abrams. he could be an offensive jolt at the top of a major league lineup. However, as a high schooler, he's still in early development and it's always hard to predict prospects, especially younger ones.
Bleday may have the most overall talent offensively and defensively and Vaughn may be the best power hitter. So, who will they take? I'm leaning toward Bleday. He's a left-handed bat that has the potential to hit 25-30 home runs a year with a good line drive swing as well. The Sox seem to be loaded with prospects that may end up as 1B or DH as their only defensive spot in the future.
While not specifically looking at organizational need specifically, if they rate the three players equally then you may go to what is needed. That being said, I think Bleday fits the Sox thinking as well as need right now. However, if they feel that Vaughn or Abrams are can't miss sure fire players whose talent far exceeds Bleday then they'll go that way. But, for my money, at least as of today, it's Bleday.