Chicago White Sox playing at home would feel natural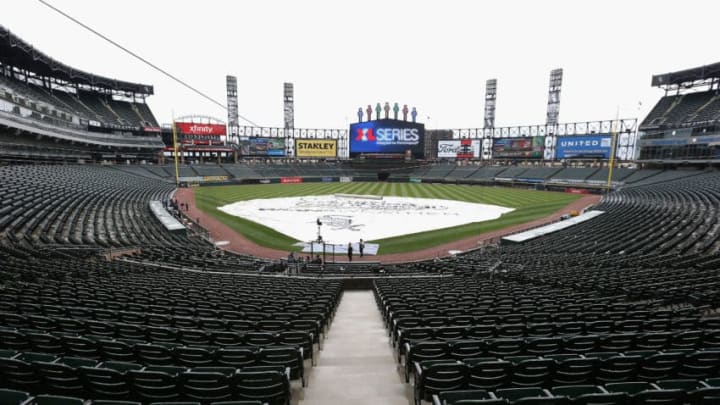 (Photo by Jonathan Daniel/Getty Images) /
The Chicago White Sox would love to get back on the field as soon as possible, but it would be even better if it was in their home ballpark.
The Chicago White Sox are certainly excited to get back on the field when they are given clearance.
Fans have been waiting for this team to be competitive for years and a phenomenal offseason puts them in a good position to do so.
Various scenarios have been thrown around about how to get teams back on the field sooner that include things such as scheduled doubleheaders and division realignment.
Those scenarios have mostly involved the team playing their games in just a few select locations in Arizona and/or Florida.
Bob Nightengale of USA Today reported, though, that a scenario is being discussed that would allow the Chicago White Sox to return to the South Side to start the 2020 season in late June or July.
This scenario would allow all 30 teams to start their seasons in their home ballparks without fans, at least at the beginning. It would also include three 10-team divisions.
Getting to see the Chicago White Sox start their season at U.S. Cellular Field would certainly make this "new normal" for the sport feel at least a little more familiar.
Without fans, it is almost impossible to make the season feel truly normal right away, but a return to their home stadium would certainly make the viewing on TV for fans feel more natural.
While this development certainly appears to be a pleasant surprise, there was a hint made a recently that something like this could potentially happen, with the "Field of Dreams" game between the Chicago White Sox and New York Yankees still on.
There's no way that game could have happened unless if significant travel was going to be permitted this season, therefore hinting that it was possible home stadiums would eventually be in play.
Nonetheless, the possibility of it happening so quickly is still somewhat surprising.
It is very exciting for Chicago White Sox fans who will hopefully get to see their team playing baseball at U.S. Cellular Field sooner rather than later.