Chicago White Sox: Lucas Giolito hasn't discussed catcher situation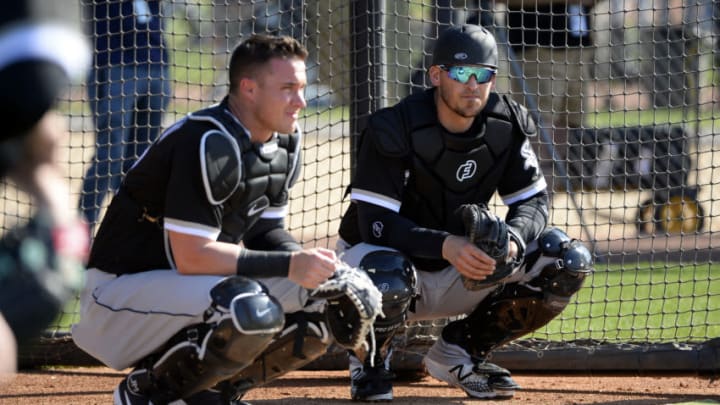 (Photo by Ron Vesely/Getty Images) /
The Chicago White Sox ace, Lucas Gioltio, has some question marks about who his catcher will be and he claims it hadn't been discussed yet.
Chicago White Sox ace Lucas Giolito has been a great leader since his ascension to the top of the rotation early last season. He knows that the skills he has forces a sense of leadership on his shoulders. Well, he displayed a lot of that on the Red Line Radio podcast last week. He gave so much useful information to them that should make everyone very happy. Hopefully, he is able to be a very good player and a very good leader on a very good team for a long time.
One thing they talked about that was a bit interesting was the catcher situation. The White Sox saw James McCann go out there and have an All-Star season behind the plate. He deserves a lot of credit for the way he played. They also went out and signed Yasmani Grandal who is one of the best catchers in the world. Both of them are very good and are going to form one of the better duos in the league.
Giolito only threw one inning during the 2020 Spring Training season before COVID-19 shut them down. He did throw his one inning to Grandal. It was assumed that McCann was going to be his personal catcher in 2020 but he made it clear that nobody knew what was going to happen. It was never discussed between the pitchers, catchers, or coaches at any point during Spring Training. They simply didn't get that far.
Well, at this point, it doesn't really matter who Giolito throws to. He definitely benefited from having McCann last year but now he should be at the point where he will be an elite pitcher with anyone. The White Sox gave Grandal a lot of money so they are for sure going to use him more often than not. McCann will be the backup catcher and a really good one at that.
Even if McCann is Giolito's personal catcher if baseball comes back in 2020, there is no guarantee that he will be back in 2021. One thing that is for sure, is that if the White Sox do get to take the field this summer and fall, they have two incredible backstops.