White Sox: The Mount Rushmore of Sox left fielders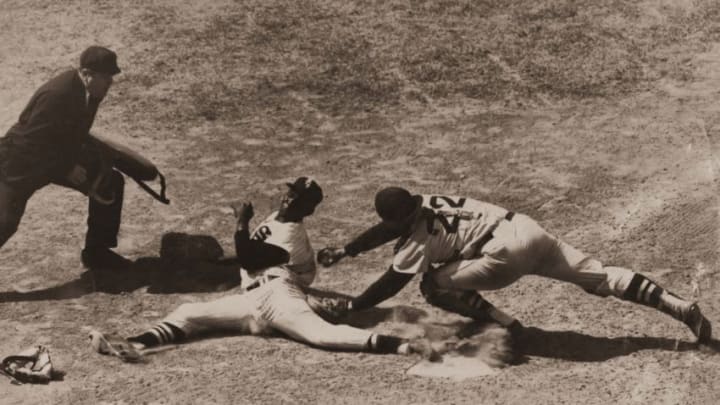 Minnie Minoso (L) of the Chicago White Sox slides around Boston catcher Sammy White in a 1953 game. (Photo by Mark Rucker/Transcendental Graphics, Getty Images) /
Minnie Minoso (L) of the Chicago White Sox slides around Boston catcher Sammy White in a 1953 game. (Photo by Mark Rucker/Transcendental Graphics, Getty Images) /
We've done one corner of the outfield as we build imaginary Mount Rushmores for the Chicago White Sox at each position and after a day in the infield, we return to the outfield to pick out the four faces to represent the team in left field.
The criteria for selection again is that a player had to (a) play at least half his games for the White Sox in left field and (b) make at least 1,500 plate appearances for the team.
There were 15 players in the 120-year history of the White Sox that met those standards:
Melky Cabrera (2015-17)
Jimmy Callahan (1901-05, 1911-13)
Patsy Dougherty (1906-11)
Bibb Falk (1920-28)
Ralph Garr (1976-79)
Shoeless Joe Jackson (1915-20)
Ron Kittle (1952-86, 1989-90, 1991)
Carlos Lee (1999-2004)
Carlos May (1968-76)
Minnie Minoso (1951-57, 1960-61, 1964, 1976, 1980)
Scott Podsednik (2005-07, 2009)
Rip Radcliff (1934-39)
Tim Raines (1991-95)
Al Simmons (1933-35)
Dayan Viciedo (2010-14)
Which of the four stood above the rest?
Mount Rushmore of White Sox left fielders: Shoeless Joe Jackson
The first member of the infamous 1919 White Sox team that will forever be known as the Black Sox gets a face on a Mount Rushmore with the selection of Shoeless Joe Jackson. Yes, Jackson was one of the eight members of the team banned for life by Commissioner Kennesaw Mountain Landis in 1920. But yes, Jackson was also one of the very best to ever play for the White Sox.
Jackson had just turned 21 years old when the Philadelphia Athletics purchased his contract from the Class-D Greenville Spinners of the Carolina Association at the end of July 1908. Buried behind established stars in Philadelphia, Jackson played in just 10 games over two seasons and was in the minor leagues when he was traded to the Cleveland Naps as a player to be named later.
He hit .387 with a 1.032 OPS in 20 games with the Naps — later the Cleveland Indians — to close out the 1910 season and opened 1911 as the starter in right field for the club, finishing fourth in the American League MVP voting in 1911, second in 1913 and fifth in 1914. The award was discontinued after that season and would not return until 1922.
In August 1915, Jackson was traded by the Indians to the White Sox for three players and $31,500 cash.
Jackson hit only .272 in 45 games after the trade. but settled in well after that. In 1916, Jackson led the American league with 21 triples and 293 total bases in 155 games and 659 plate appearances, hitting .341 with an .888 OPS. He hit .301 with an .805 OPS in 1917 while helping the White Sox to a World Series title.
After playing 17 games in 1918, Jackson was drafted, but did not get shipped to Europe for World War I. Instead, he built battleships at a shipyard in Delaware, according to the Society for American Baseball Research. Team owner Charles Comiskey vowed Jackson and two other members of the team, pitcher Lefty Williams and backup catcher Byrd Lynn, would never return.
""There is no room on my club for players who wish to evade the army draft by entering the employ of ship concerns.""
A sixth-place finish in 1918 disavowed Comiskey of that notion and all three players returned for 1919. Jackson hit .351 with a .928 OPS and helped Chicago to the infamous 1919 World Series, during which he hit .375 with a home run and six RBI in eight games despite receiving money from gamblers to help throw the series to the Cincinnati Reds.
Jackson, however, had nothing to do with planning the fix and his participation was limited to going along with first baseman Chick Gandil, one of the architects of the plan along with pitcher Eddie Cicotte.
The White Sox were battling for another pennant in 1920 before Jackson's season — and those of the seven other players implicated — ended on Sept. 28. Chicago lost two of three to the St. Louis Browns to close the season and finished two games behind the Indians in the AL.
Jackson hit .382 with a 1.033 OPS in 1920, leading the AL with 20 triples while finishing with career-highs of 12 home runs and 121 RBI, but he was banned for life in August 1921 despite being acquitted on charges related to the fix.
In parts of six seasons with the White Sox, Jackson hit .340 with a .906 OPS in 648 games and 2,802 plate appearances, hitting 139 doubles, 79 triples and 30 homers to go with 433 RBI and 396 runs scored.
Jackson died in December 1951 at the age of 64 after he had a heart attack.