White Sox: The Mount Rushmore of starting pitchers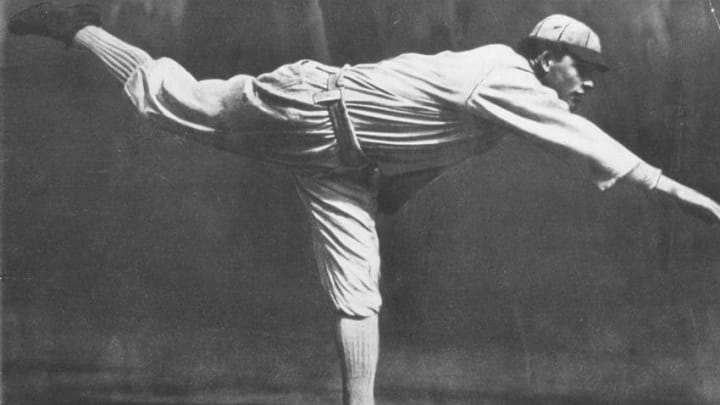 Chicago White Sox pitcher Ed Walsh in 1909. (Photo by Mark Rucker/Transcendental Graphics, Getty Images) /
Chicago White Sox pitcher Red Faber. (Photo by Mark Rucker/Transcendental Graphics, Getty Images) /
No position in the series of creating mythical Mount Rushmores for the Chicago White Sox was more daunting than narrowing a field of 41 starting pitchers to four.
This large group included four members of the Baseball Hall of Fame and All-Star selections from the beginning of the midsummer classic in 1933 to the present era.
So how does one compare a pitcher who won 40 games in the 1910s to a guy who started 32 in the 2010s? Fortunately, statisticians have found a variety of ways to help normalize the numbers and the rest just has to go by feel.
Two of the Hall of Famers did not make the cut for this particular mountain face, though Ted Lyons, a stalwart for the White Sox from the early 1920s to the 1940s was one of the final cuts. A pair of contemporary left-handers, Chris Sale and Mark Buehrle, were also in that group.
The other Hall of Famer not selected, Early Wynn, did the bulk of his career work with the Washington Senators and Cleveland Indians, though Wynn did help pitch the White Sox into a World Series in 1959.
The qualifying standards were a minimum of 1,000 innings pitched while appearing in at least 60 percent of their appearances as the starting pitcher. There were 40 who met that standard, plus the special case of Wilbur Wood — closer for four years, starter for another eight. Here are those qualifiers:
Nick Altrock (1903-09)
Wilson Alvarez (1991-97)
James Baldwin (1995-2001)
Floyd Bannister (1981-87)
Joe Benz (1911-19)
Ted Blankenship (1922-30)
Mark Buehrle (2000-11)
Britt Burns (1978-85)
Eddie Cicotte (1912-20)
John Danks (2007-16)
Bill Dietrich (1936-46)
Dick Donovan (1955-60)
Richard Dotson (1979-87, 1989)
Red Faber (1914-33)
Alex Fernandez (1990-96)
Gavin Floyd (2007-13)
Jon Garland (2000-07)
Orval Grove (1940-49)
Joe Horlen (1961-71)
Tommy John (1965-71)
Thornton Lee (1937-47)
Ted Lyons (1923-42, 1946)
Jack McDowell (1987-88, 1990-94)
Frank Owen (1903-09)
Roy Patterson (1901-07)
Gary Peters (1959-69)
Billy Pierce (1949-61)
Juan Pizarro (1961-66)
Jose Quintana (2012-17)
Johnny Rigney (1937-42, 1946-47)
Reb Russell (1913-19)
Chris Sale (2010-16)
Jim Scott (1909-17)
Eddie Smith (1939-43, 1946-47)
Frank Smith (1904-10)
Tommy Thomas (1926-32)
Ed Walsh (1904-16)
Doc White (1903-13)
Lefty Williams (1916-20)
Wilbur Wood (1971-78)*
Early Wynn (1958-62)
*NOTE: Wood spent four years as a reliever and eight as a starter for the White Sox and his career stats have been split into those two sections.