How the Manny Machado failure will hurt the White Sox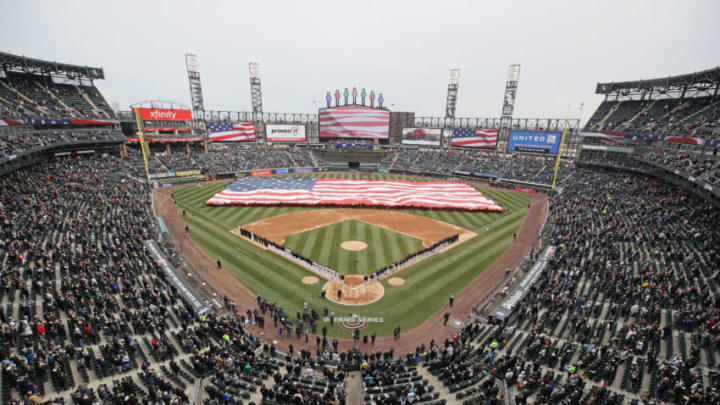 CHICAGO, IL - APRIL 05: Players and fans stand during the National Anthem before the Opening Day home game between the Chicago White Sox and the Detroit Tigers at Guaranteed Rate Field on April 5, 2018 in Chicago, Illinois. (Photo by Jonathan Daniel/Getty Images) /
By failing to sign superstar Manny Machado due to not being willing to add another $50 million, the effects are going to be monstrous for the White Sox.
If Jerry Reinsdorf thought it was good business sense to try and save a few bucks in signing Manny Machado, he was horribly outmaneuvered. The aftereffects of this colossal failure are going to cost him much more than that.
By trying to get cute with contract wording and adding incentives instead of guaranteed money, he lost out. By being so public about being "all in", they also enraged the majority of White Sox fans in the way they lost out. If, as Kenny Williams said, they were never willing to go to the $300 million, then they could never have considered themselves really in it.
More from White Sox News
The White Sox organization has a reputation as one that's, to be kind, cheap. Tuesday's news did nothing to change that perception. It's just another knife in the back to White Sox fans. And we deserve better. We deserve to root for a team that has an owner that cares as deeply for their team as we all do. Unfortunately, it appears that we are regulated to continue being the second team in Chicago.
Let's also remember that this team is in the third largest market in baseball but operates as if it's a small market team. This could have changed a lot of things for this organization. This organization is always going to be looked at as a joke until they start spending some money.
From all I've read and heard from fellow White Sox fans, this may translate to even fewer people in the seats at games this year. It's going to cost the Sox way more in optics than Reinsdorf would have saved. When you are honestly trying to change the culture, you have to overpay for supreme talent to come to your team. When you are asking a Hall of Fame talent to come to your team and lose for a couple years while prospects develop, then you need to give him the last two years of that contract as a show of appreciation.
This front office is showing it's true colors. Who is actually in charge here? Williams said they couldn't go to $300 million. Rick Hahn said there was no number they wouldn't go to. Which is it? Now, Hahn can only do what ownership allows him to spend. The more the news comes out the more aggravating it gets.
The Sox also reportedly would not offer any opt-out clause because that's "not their philosophy". Again, if you're not going to offer any opt-outs, then you aren't true players for prime free agents. If you're not willing to go to what the player asked for from the beginning then you aren't true players in attempting to sign premier free agents.
This organization has shown it's still in the dark ages and it won't change without an ownership change. As Sox fans vent this week, I hope the front office understands exactly how much damage they have done with the trust to Sox fans. After this, how can true Sox fans honestly believe anything they hear?
Hahn says this won't keep them from moving forward and pursuing other top talents. Great. If you aren't willing to overpay, then don't bother. And definitely, don't play with our emotions, acting like we actually had a chance. The Sox have lost our trust.
And it's going to take a lot more than a few mid-tier free agent signings to gain it back. And  Reinsdorf will see the impact his cheapness caused with more empty seats this year. We are disgusted and embarrassed to be fans of this organization right now. You better do something or you may lose fans forever.