White Sox: The Mount Rushmore of starting pitchers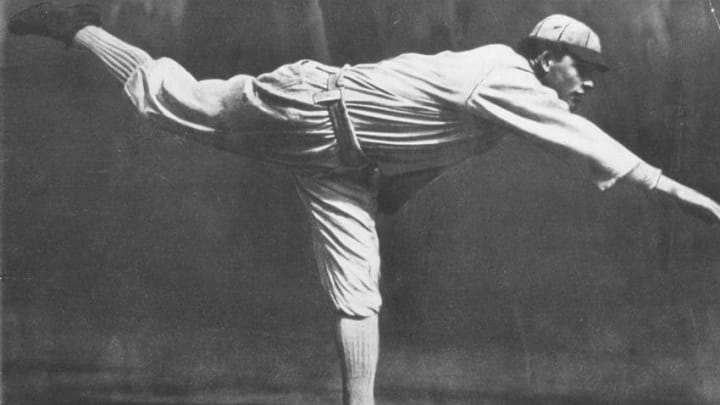 Chicago White Sox pitcher Ed Walsh in 1909. (Photo by Mark Rucker/Transcendental Graphics, Getty Images) /
Mount Rushmore of White Sox starting pitchers: Billy Pierce
A native of Detroit, Billy Pierce got his start in professional baseball when he signed with the hometown Tigers shortly after graduating from high school in 1944 and he started the 1945 season on the big-league roster at the age of 18. He spent most of the season at Double-A Buffalo in the International League, where he pitched all of 1946-47.
The Chicago White Sox acquired Pierce along with $10,000 cash from the Tigers in November 1948 for catcher Aaron Robinson after struggling to a 6.34 ERA in 22 appearances for Detroit that season.
The White Sox plugged Pierce into the rotation and there were struggles early. But the 5-foot-10 left-hander put it together in 1953, earning the first of seven All-Star appearances while leading the American League in strikeouts.
In 1955, Pierce posted a 1.97 ERA, the best in baseball, also leading the bigs with a 1.099 WHIP. His 2.45 strikeouts-to-walks ratio led the American League as well. He led the AL in complete games three straight seasons, 1956-58, but slipped to 14-15 with a 3.62 ERA in 33 starts with the pennant-winning club in 1959.
He was relegated to the bullpen for the World Series, even though team vice president Chuck Comiskey pleased with manager Al Lopez to start Pierce. But Lopez said he wanted to pitch right-handers against the Los Angeles Dodgers because of their power from the right side of the plate.
He made his final All-Star appearance in 1961 and was traded in November of that year to the San Francisco Giants in a six-player swap. The GIants released Pierce in December 1963, re-signed him in April 1964 and released him again at season's end.
While with the Sox, Pierce threw four one-hitters and just missed becoming the first left-hander in major-league history to throw a perfect game. After retiring 26 straight hitters on June 27, 1958, Washington Senators pinch-hitter Ed Fitz Gerald broke up the gem with a double.
Pierce retired to the Chicago area and worked 23 years for Continental Envelope Company. Though he was one of his era's best pitchers, Pierce has not been selected for the Hall of Fame.
In 13 years for the Sox, Pierce had a 3.19 ERA and 1.261 WHIP in 2,931 innings, working in 456 games and starting 391, with 183 complete games and 35 shutouts. He twice led the AL in strikeouts per nine innings and posted 5.5 per nine over his time in Chicago.
Pierce is one of 11 White Sox to have his number retired. He died from cancer in July 2015 at the age of 88.